Architecture | Radu Vunvulea |
25 August 2020
---
In part 1 of this blog article, I gave an overview over IaaS vs PaaS and SaaS as different cloud maturity levels, and why they should be taken into account when choosing cloud services and providers. I then introduced my analysis of the top 4 enterprise cloud providers – Azure, AWS, GCP, and IBM – regarding specific service categories and how they are impacted by different maturity levels.
My next query was which service categories have their cost impacted by being provided on IaaS. Specifically, I wanted to find out which service category suffers the largest impact from the platform it is provided on (IaaS, PaaS, or SaaS).
COMPUTATION
The first category I examined was computation, which has many formats nowadays – VM, microservices, serverless, and more. From this point of view, more than 85% of the services offered by IBM in this category are IaaS-based. This is surprising because Azure and AWS provide less than 46% of their computation services on IaaS, and GCP only 21%.

It is important to take into account that the operational and management costs are much higher for IaaS in comparison with PaaS and SaaS. Because of this the cost for cloud vendors offering a higher number of PaaS and SaaS services is much lower than for those where most of the computation services are IaaS-based.

This metric made clear why the operational and management costs of the IBM cloud are comparatively high. The other cloud providers offer a lot more services through PaaS, whereas IBM still provides many services as VMs.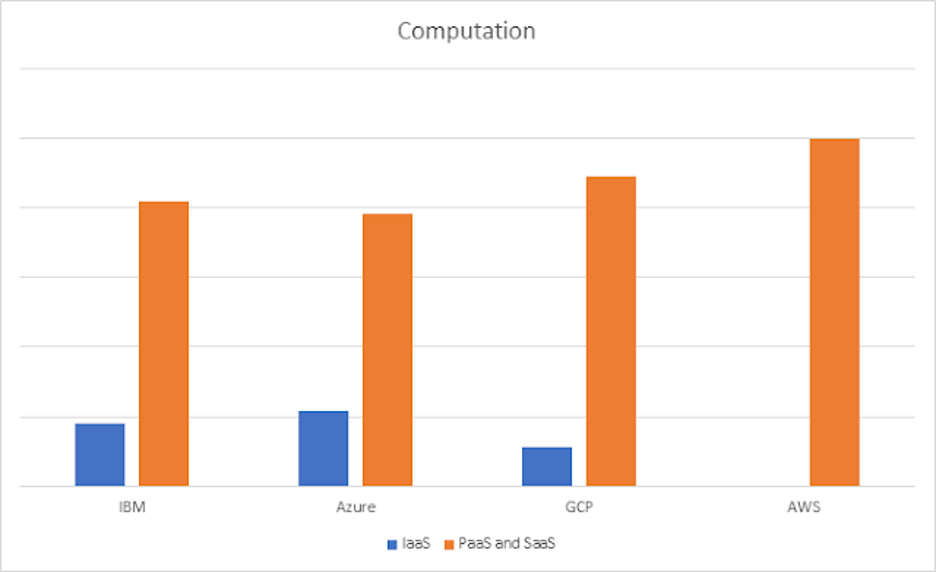 DATA AND STORAGE
When considering database and storage services, the differences between the cloud providers are smaller. They all offer about 15% of these as PaaS and SaaS services. Interestingly, all of AWS' primary data and storage services are PaaS and SaaS services.

The highest percentage of IaaS services in this category is found with Azure (22%). Even so, if we analyse the services by data and storage category, we find that the core ones are PaaS services. Most of the IaaS data and storage services are from third-party providers.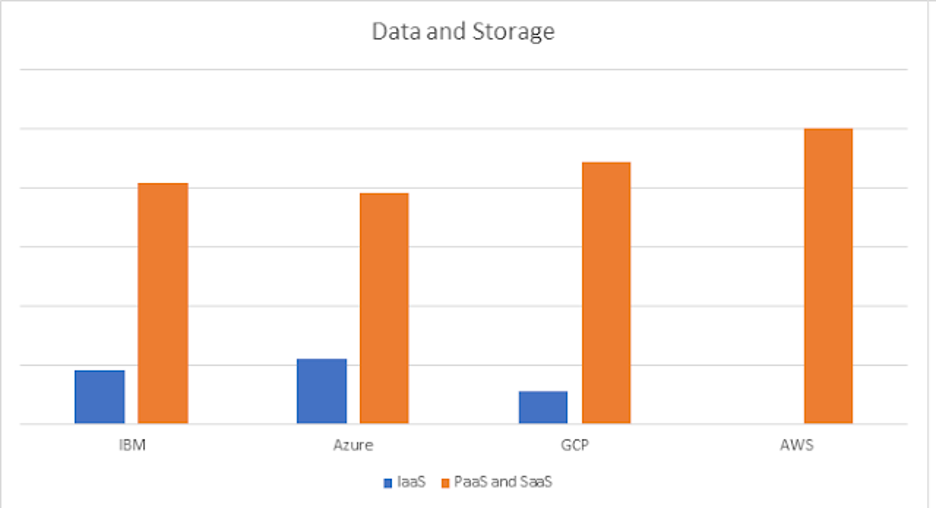 SUMMARY
There are two service categories offered as IaaS that have a high impact on the operational and management costs of using the service, namely computation and data storage. Both of these also have a significant impact on the application landscape, especially for enterprise applications. Most enterprise applications store plenty of data in different formats that need to be processed and provided to other systems. When we combine this with the quality attributes that they need to achieve, we realise that if redundancy, backups, or auto-scaling are offered out of the box in a PaaS or SaaS service, this is terrifically valuable for the customer IT teams.

PaaS and SaaS services result in less management and fewer operational activities that need to be performed by the customer support teams. In turn, this means fewer issues, lower complexity, and better service quality provided to the end customer.
CONCLUSION
The ratio of IaaS services compared to PaaS and SaaS services is a useful maturity metric when comparing public cloud providers. The insights delivered by this metric can offer us an overview of the relative complexity and likely costs of using a provider's services. It seems probable that there is a fairly direct connection between the management and operation costs of IT projects and the number of cloud services offered in IaaS vs PaaS and SaaS form. In addition, there may be a significant impact on quality attributes and the complexity of the solution during the implementation phase.
Group Head of Cloud Capability
Radu is a technology enthusiast. He has vast experience in different technologies and industries and spends most of his time working with the cloud, helping companies to innovate and finding solutions to their business problems. He enjoys connecting people and helping them to grow. When he isn't blogging or speaking at events, Radu likes to build his own IOT devices, he enjoys an early morning run or a hike up a mountain. His feet seem to be his preferred method of transportation, he would do anything not to be stuck in traffic.
All Categories