Innovation | Joe Dunleavy |
13 January 2023
I see innovation as the engine for driving competitiveness and business growth – and people as the fuel for it. But what else do you need to roll out ground-breaking ideas and then turn them into reality or a source of success?

As part of my role supporting our customers, I've been working with businesses across a wide variety of industries. If there's been one consistent success factor across all of them, it's innovating at speed and being prepared to seize the opportunities. It's especially true for Irish businesses. They have a huge opportunity to bolster their competitiveness through innovation. However, today there is very little academic-based research focused on innovation delivery available in Ireland to provide business leaders with a compass.

This is why I decided to dedicate my Masters of Arts research project conducted at the Atlantic Technology University (ATU) in User Experience (UX) Design and Applied Innovation studies to this theme. As part of this, I created an exploratory study targeted at Irish organisations that spend time focused on innovation or have dedicated innovation practices in place. Capturing the experiences of innovation experts through anonymous online surveys and senior executive interviews, I investigated their learnings and the methodologies, frameworks and models they use to improve their innovation outcomes. With this, my intention was to help define best practices for companies – in Ireland and beyond – to start or improve their existing innovation practices.
HIGHLIGHT RESULTS AND INSIGHTS
See the infographic below for a sneak peek into the highlight results of my research.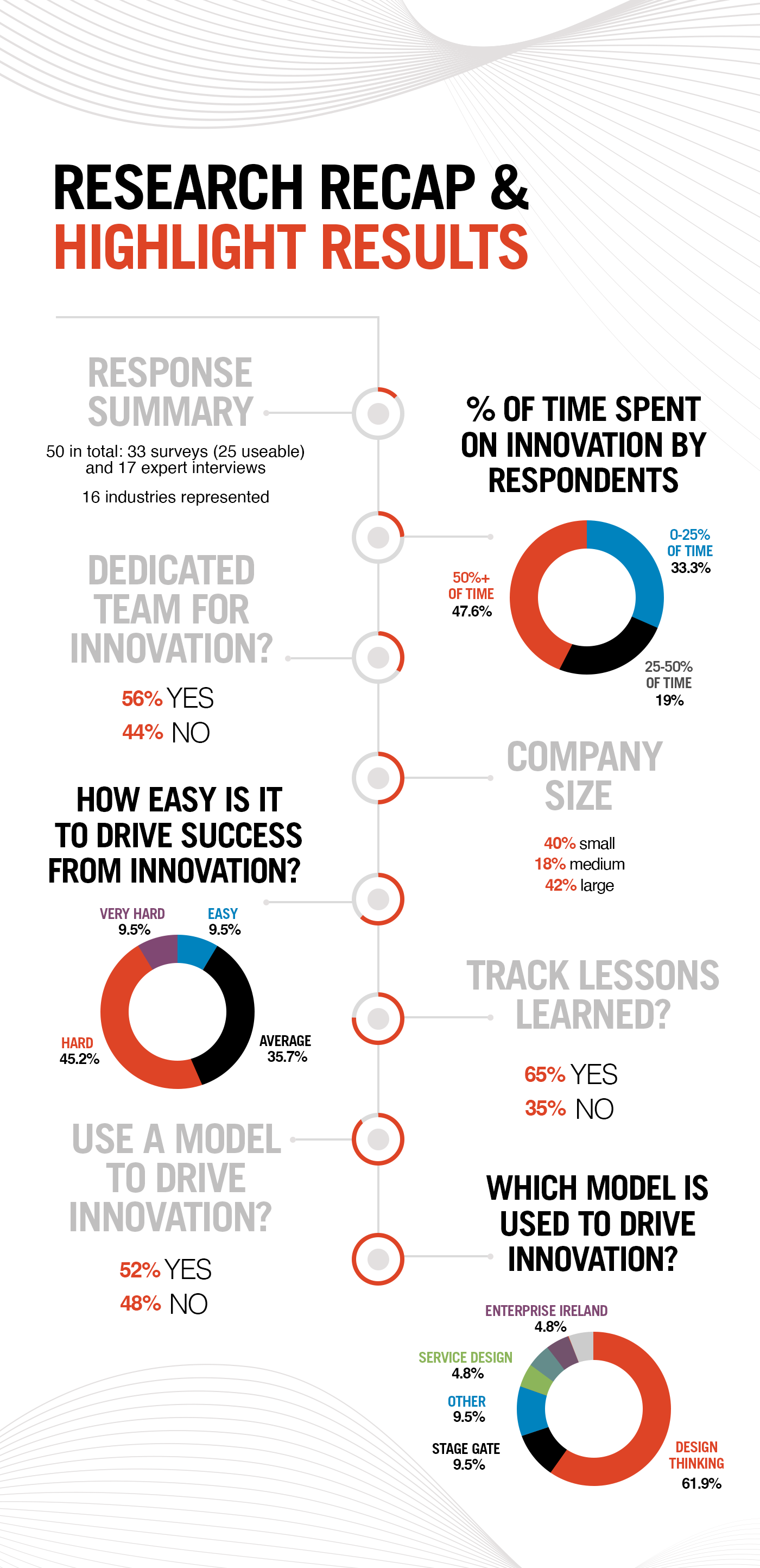 A couple of findings that I want to draw your attention to based on the sample size of 50 respondents are:
56% of respondents have a dedicated team focused on innovation within their company
54% of respondents find it hard or extremely hard to drive innovation success
65% of all respondents confirmed that they do track innovation lessons learned
Only 52% of respondents use a model to help drive innovation
Respondents called out exec support or senior leadership buy-in as the most critical success factor to drive innovation, followed by dedicated time or time carved out for staff to spend focused on innovation. Beyond that, other factors commonly mentioned were the need for trust and having an open or growth mindset.

Meanwhile, the number one response to the biggest obstacle to innovation was too much of a focus on short-term innovation success instead of longer-term.
TOP THREE RECOMMENDATIONS TO SHARPEN INNOVATION
Based on the insights gained from my research, there are three main recommendations for those seeking to bolster their innovation potential. Taken onboard, these can help provide a strong return on investment when it comes to a company's innovation focus:
Get your leaders on board before you start. Driving innovation is not easy, and it takes time to have a sustained impact, so gaining senior leadership or executive buy-in is a critical factor for success. Ensuring that the exec team is onboard with what the innovation work will focus on is just as important as their understanding of the approach that will be used. Among others, this should aid you in securing the budget and resources needed – ideally not only for the first-year commitment but for a 2-to-3-year horizon. Related to that, having a regular check-in cadence with the exec team is a crucial step to establish as part of your priority setting and process, as it will help form a stronger alignment and communication approach for your innovation efforts.
Use a framework or model to help drive innovation within your company. An important insight I gained from companies that are executing well on their innovation focus is that many of them use some kind of model(s) or framework(s). It is important to call out, though, that it does not mean you should follow a model exactly as it is described in a textbook or online but build on the elements that resonate for your project and company. Based on my findings, Design Thinking models and concepts can be especially useful – for instance, to identify personas and customer journey maps for your innovation customer focus.
Get started. This might be an obvious recommendation to finish on, but it is important to spell it out, as the long journey of sustained innovation success often starts with a single step. It was clear from the responses that by investing time in innovation, most of the participating companies were able to describe the clear value they got from their focus on innovation. They also shared examples of some related intangible outcomes beyond the direct outcomes achieved, such as better team spirit, improved collaboration, and more strategic thinking from staff. It is important to call out that not all innovation examples took a huge effort to get a solid return.
My main intention with this article was to help companies start or improve their existing innovation practices within their organisations. So, if you would like to read the full research project, or if there is anything in this post you would like to discuss, please do reach out to me.
Tags
Head of Innovation
Joe is an experienced executive in the Innovation, Software Delivery, FinTech and Business areas. In previous positions, he has held several leadership roles including Innovation Head, Interim CIO, Software Development Lead, and Technical Project Manager. His experience spreads the range between IT start-up and global corporation, which helps him support a diverse range of clients. Joe also holds degrees in UX, UI and Innovation, Innovation & Leadership, and Computer Science, and he is a certified Amazon Cloud Practitioner and Microsoft Azure Fundamentals professional. Besides being passionate about technology and innovation, Joe also enjoys volunteering, food, coaching, sports, and spending time with his wife Dervla and their two kids Ava and Joseph.
All Categories