Strategy | Dr. Gillian Halley |
13 September 2022
The drivers for accelerating the adoption of digital technology in healthcare have, in the past, been offset by technical and organisational issues that have led to delays and put healthcare digitally behind other areas of life. In our lives as consumers, data supports our decisions and connects our world, but for patients, there are two parallel worlds: the connected world and the unconnected one.

Before we look at the patients' journey, one symptom that is clearly voiced by patients is how disjointed the system really is.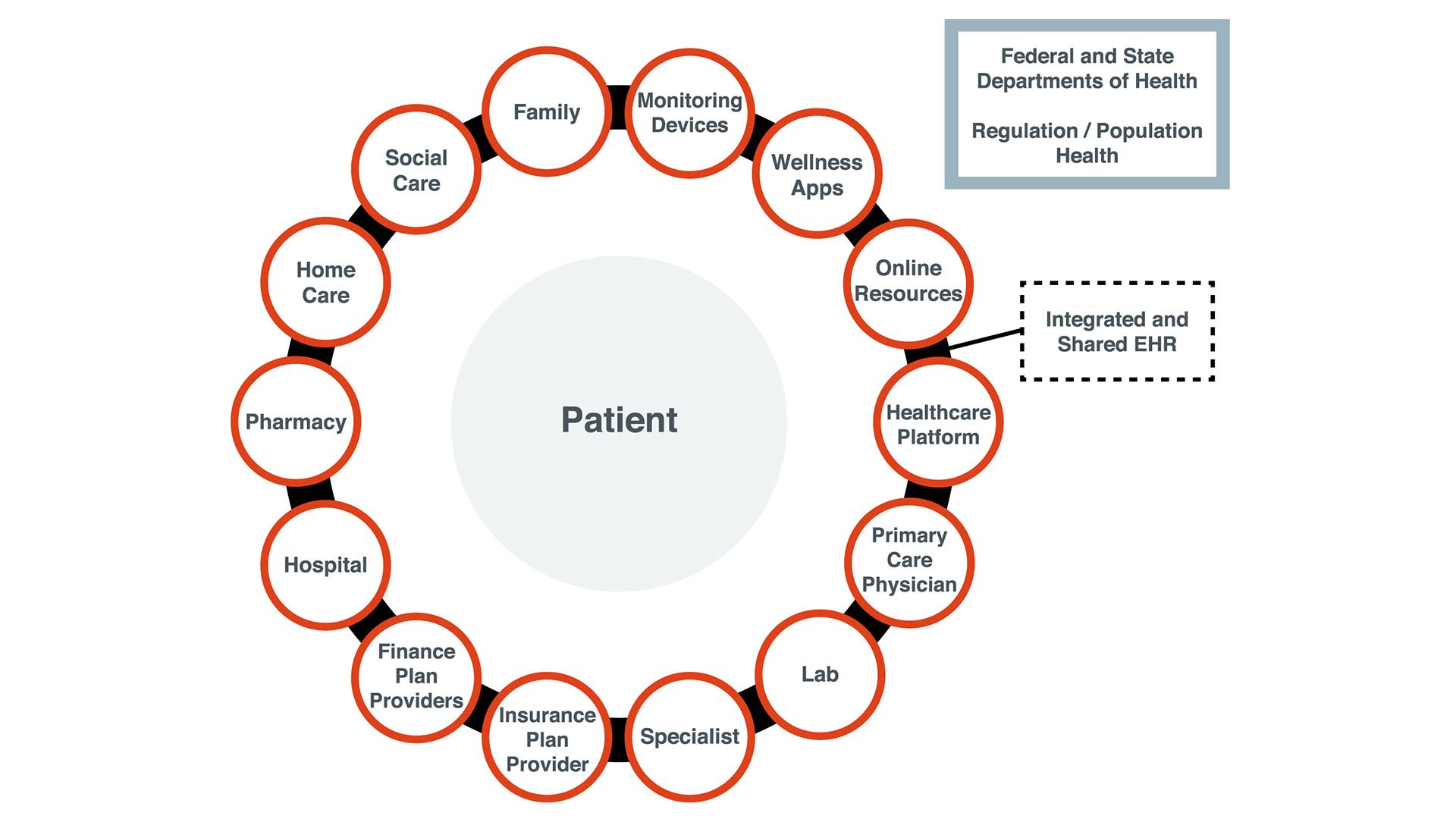 To address this, the many caregivers – from clinicians, family members and payers to platforms and technology – must be integrated with a shared health view, centred around the patient. Without this, the patient themselves (or their family) become the care coordinator and the shared health record!
HEALTHCARE EXPECTATIONS IN A DIGITALISED WORLD
Exposure to the internet, social networks and mobile systems from an early age has created a generation comfortable with cross-referencing multiple sources of information and options while integrating digital, virtual and offline experiences. And older patients are becoming increasingly comfortable with digital solutions, too – indeed, it is often the older or more vulnerable that can benefit from new technologies.

And from a patient's perspective, their health journey should be quite simple: they are well, or they are being treated after their condition has been diagnosed. Patients certainly expect the treatments to potentially be complicated and worrying, but not the administrative pathway.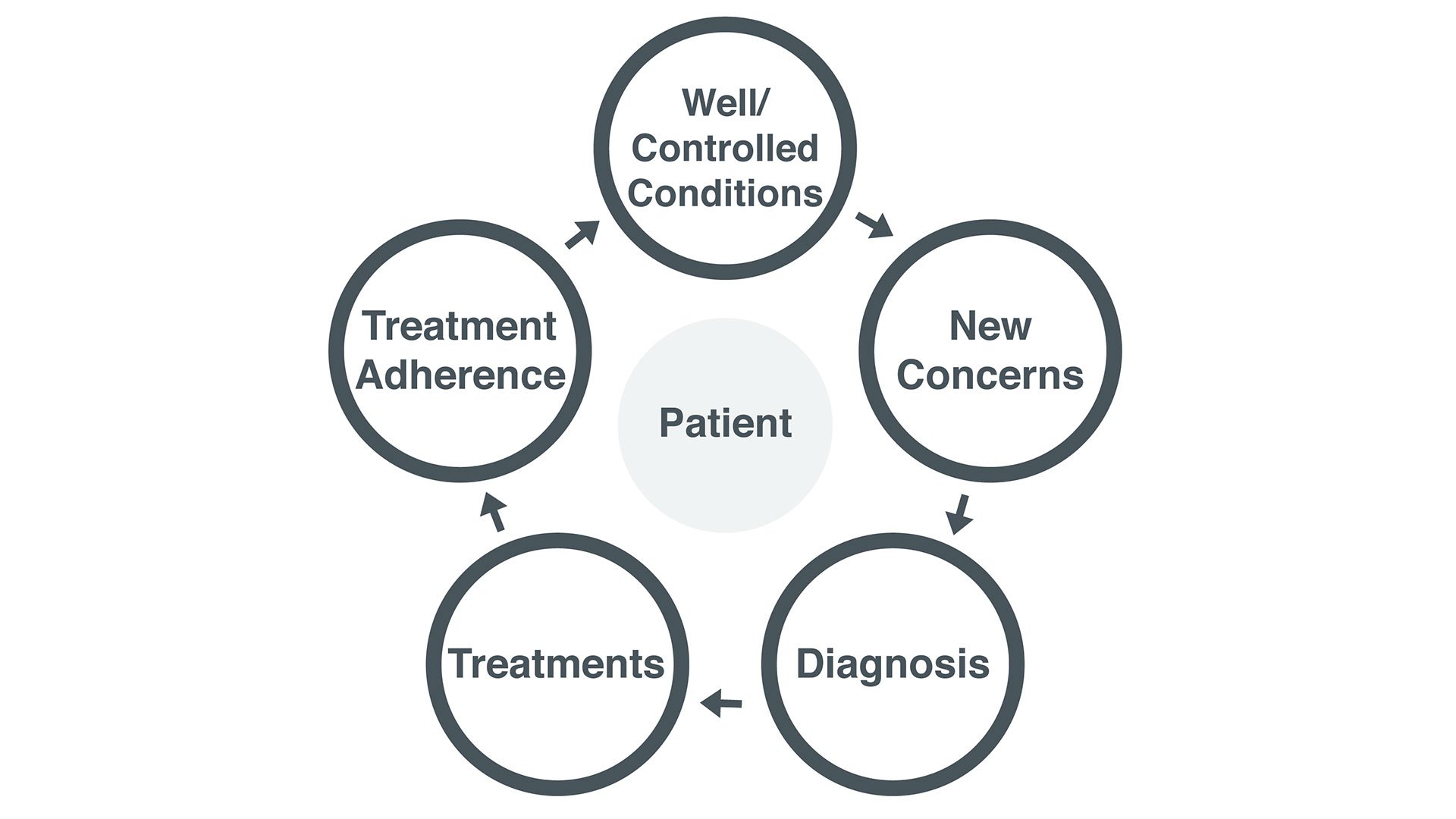 A patient's expectation is to access services anytime and anywhere they want, yet the healthcare system continues to pull them into an analogue world. This carries a high risk of disengagement, loss to follow-up and reduced compliance with therapies.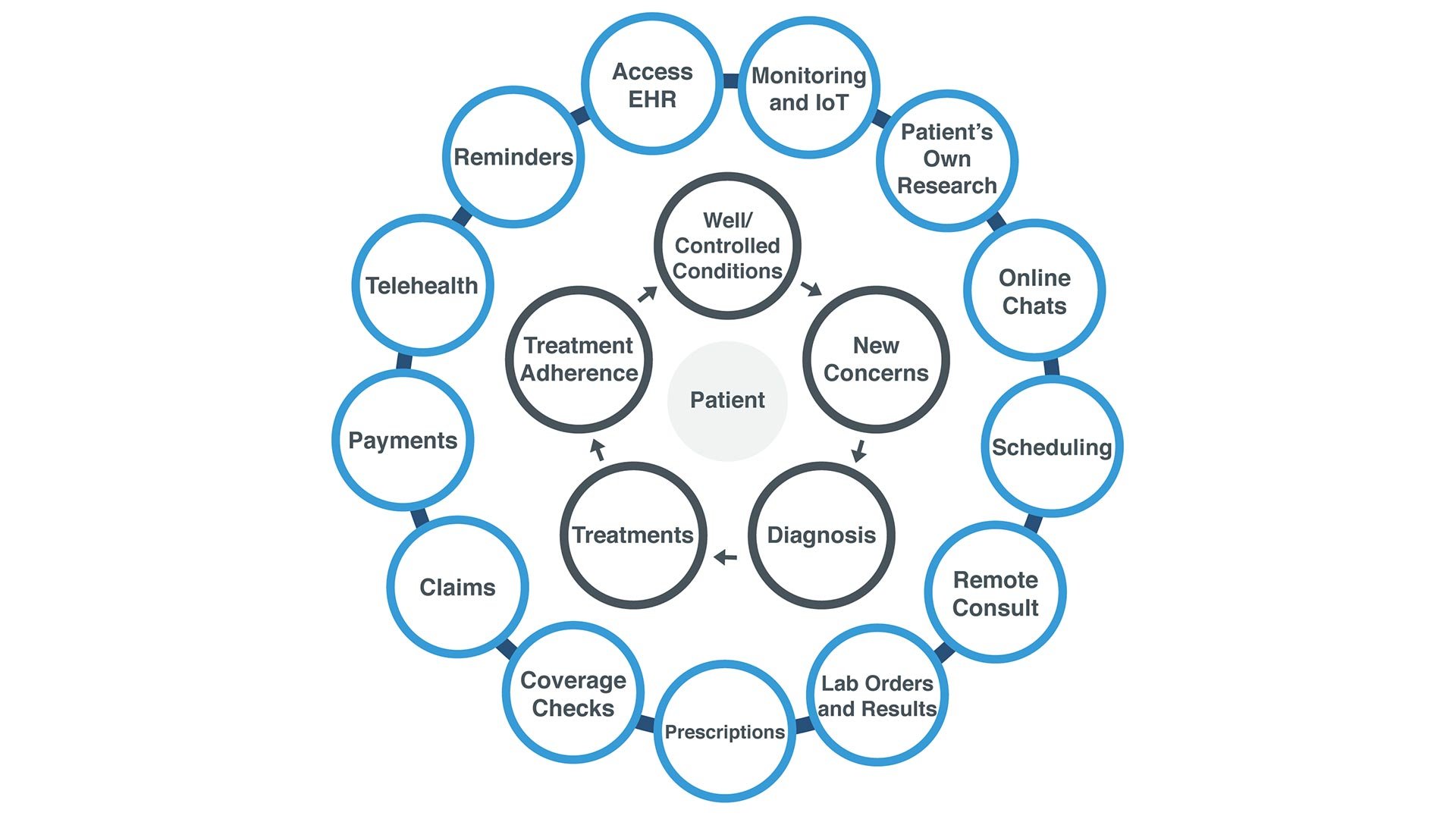 For a connected patient and their clinicians and caregivers, many (and typically most) of the interactions with health providers should be digital.
TECHNOLOGY FOR A CONNECTED HEALTHCARE EXPERIENCE
Let's look at a typical journey for a patient. The following examples show the patient's and clinician's concerns in the unconnected world and how these can be addressed by technology for a connected patient.
Experiencing a new symptom
Patient: Understanding the potential issue, googling symptoms, making an emergency call.

Clinician: Typically unaware of the patient's concerns. Managing the case load or the information and education of patients.

Technology: Making patients feel connected to the medical team by using app-based reporting systems which confirm to the patient that their report has been received. Robust and secure messaging and video call services can accomplish this, with potential AI and decision support systems screening cases before they are presented to the medical team.
Requesting and booking a healthcare encounter
Patient: Having trouble identifying the appropriate urgency, provider and availability. Having to repeat information to multiple teams.

Clinician: Optimising waiting list management and workforce scheduling. Having a full understanding of the patient history to manage triage.

Technology: Building appropriately secure and private interfaces between a consumer-facing app and the hospital IT systems is critical. Applying AI and decision support systems can help with screening and more automated, efficient scheduling to benefit both patients and medical staff.
Having a healthcare encounter
Patient: Only having a face-to-face option, repeating medical history, lots of waiting, no visibility over the process.

Clinician: Staying current, outcome reporting, communication across organisations, documenting for reimbursement. Data siloes create business challenges. Access to the right information in the right place at the right time is essential to ensure the right care is delivered. The time involved in manually entering data for reporting if it is not continuously collected and displayed.

Technology: Portals and apps for shared records allow patients and clinicians to understand the situation and share information. Interfacing complex data back-end systems, with appropriate security and data privacy concerns addressed, is a challenge and uses up product development resources as the number of disparate systems to be connected continues to grow. Legacy systems also need to be connected, not just modern API- and cloud-based architectures.
Getting tested
Patient: Scheduling appointments, understanding the results, billing implications.

Clinician: Interpreting in context, explaining to patient, responsibility and accountability, managing large data sets from remote monitoring of patient symptoms and biomarkers, managing patient expectations, concerns about diagnostic software and AI bias.

Technology: Building consumer-facing medical devices with the rigor of medical apps while keeping the compliance of commercial apps is critical. UI/UX design experience is needed to navigate these tricky waters. Also, blending regulated software medical devices with unregulated platforms is a critical area, something that both the long-term architecture and the short-term quality processes must consider. This includes change management, post-market surveillance, reporting, traceability, risk management and a host of processes that meet the medical standards of IEC62304, ISO14971 and ISO13485 for Software as A Medical Device (SAMD).
Receiving a diagnosis
Patient: Being overwhelmed with information that is not understood, anxiety.

Clinician: Developing an evidence-based care plan, coordination.

Technology: Expertise in UI/UX is needed to simplify software for patients and to provide only pertinent data to the medical teams at the right time. To develop appropriate clinical software, it is critical to understand the need to have separate controls for software used as a medical device, e.g. in diagnosis, and for software that is the platform to access the data. There must be a clear delineation and supporting organisational approach in technology companies providing the solution.
Following up and managing the condition
Patient: Not personalised, one-size-fits-all, fixed-length outpatient appointments. Lack of choice, not human-centric, lack of clarity and transparency about who to call and when. No way to access services flexibly as expected, e.g. using a smartphone.

Clinician: Wishing to use remote monitoring, video, chat, telephone, triage, multi-disciplinary team, making care bespoke to patients. Patient's disease progression is only observed through episodic clinical visits, meaning fluctuations in disease progression are not always captured.

Technology: Software plays a key role, as it can run on the patients' phones when they are away from the clinic. They can act as a hub for other devices, such as blood pressure or blood sugar monitors or different types of wearables that can connect through the patient phone. Building a sense of connection through a device that the patient is very familiar with and that is usually with the patient is the key to making the patient feel connected to their medical team. The software design needs to consider the requirements related to maintaining compliance and keeping the patient's attention and interest to avoid device and software burnout.
CONCLUSION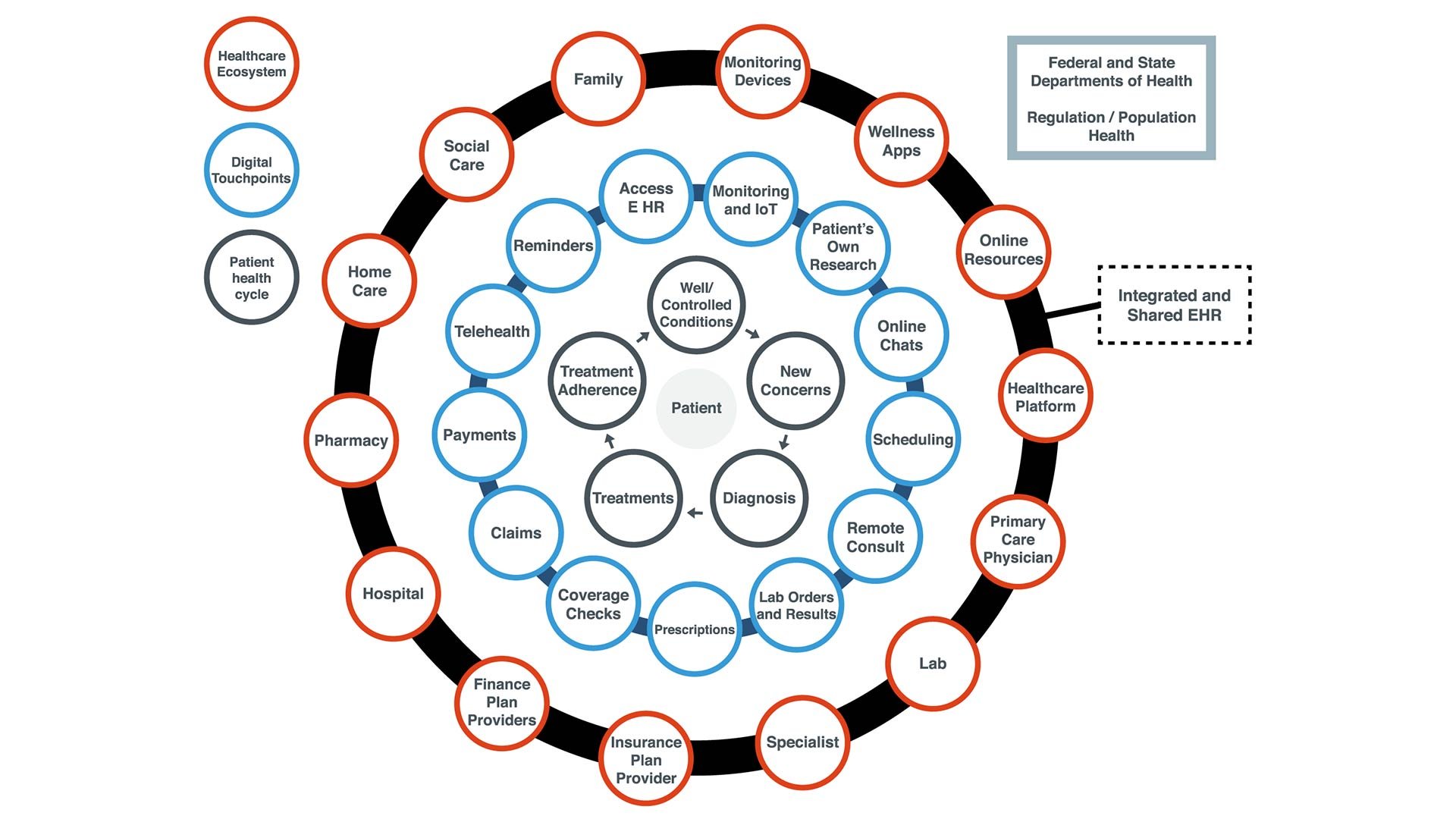 Within the overall context of the health system, the patient journey is complex, but from the perspective of the patient, it should seem simple! Only a digitalised and connected system can provide that kind of patient-friendly, simple experience.


This article has been adapted from our longer paper on Delivering for the Connected Patient.
Consultant
Gillian has over 20 years' experience as a medical consultant in frontline healthcare delivery, with 5 years as service director, is a recognised NHS innovator in transformational change through digital health technology, and has been awarded innovation funding from the NHS, Innovate UK, and SIBG. She has extensive experience and knowledge of navigating healthcare strategy, regulations, and commissioning from both a vendor and purchaser perspective.
All Categories