Innovation | Erin Reeg |
08 September 2020
Companies live or die by their digital experience. User experience design has become such a prominent field because companies create brand loyalty through great experiences and lose customers through bad ones. Before the digital age, customer engagement and retention were purely physical. How exciting was the print ad in the magazine? How enticing was the storefront? Those physical artefacts drew customers to a brand.

As the digital age has become prevalent over the last 20-30 years, more companies rely on their websites to generate business and provide brand experiences. Creating a loyal customer base is a way to build more business and, ultimately, more value. But as brand loyalty has dwindled and e-commerce has risen, the importance of the user experience profession has increased significantly over the last three decades. But what do user experience designers do, and how does that affect loyalty?

According to the Nielson Norman Group (NNG), the term 'user experience' was first used by Don Norman at Apple in 1993, and it can be summarised as "human-centered design of interactive systems". The rapidly growing field of user experience design, or UX, has incorporated a mix of psychology, testing, and design. According to NNG, the growth rate of the profession is steep: 100x from 1950 to 1983, 1000x from 1983 to 2017, and 100x from 2017 to 2050. They predict that there will be 100 million UX professionals by the year 2050. That's massive growth for a field that just started in 1993.
BUT WHAT IS A USER'S EXPERIENCE ANYWAY?
To start off, let's break down the terminology. 'User' refers to the actual person who utilises a product or service. This user could be a shopper in an online retail store, a runner tracking their activity with a smartwatch, or a doctor using a computer in an operating room. The person actively clicking, touching, and reacting to the product or service is the user.

As UX evolves, so does our understanding of the user. Ideally, in the research phase of a project, defining the user will help to gain a greater understanding of the nuances that influence their opinion. If working on a retail app, 'user' should be replaced with 'shopper' or 'customer'. A fitness tracker app should have 'runners' or 'athletes' as their user base. Determining who the user is creates empathy and builds a clear picture of who the product is for throughout the design and development phases.

Not all users are customers; employees can also be users of a product or service. This user base is often disregarded because they are not paying for the service. This thinking can be detrimental to employee productivity and job satisfaction. While their needs and motivations can significantly differ from those of a customer, they are equally important. They might want efficiency over personality where a customer might respond well to a personal touch.
HOW DO YOU FIGURE OUT THE USER'S NEEDS?
Let's explore the second part of the term: 'Experience' is the action or process of utilising the product or service. It also encompasses how the user feels about the product or service, and how relevant and valuable it is to their needs. How the 'user' 'experiences' a product or service has been coined 'user experience'.

To understand the experience, think about what the user wants to accomplish. Is the shopper able to check out quickly on the retail site? Does the runner track their activity accurately? How does the doctor use the software, and is it helpful? If these interactions go smoothly, the user has a good experience.

The way you click, download, interface, mention, send, touch, and, in general, interact with a product or service is summed up in the term 'experience'. This experience changes based on how you use the product or service. Some apps we use every day, and some we only need once in a while. How you design and develop applications for specific instances changes based on expectations of the product or service.

How the user feels about a product usually equates to a 'good' or 'bad' experience. Sometimes UX is non-consequential, and other times there are severe repercussions in people's lives. What if the runner tracks a run as a bike ride because the interface is confusing? Disappointing, but not life or death. But what happens when the software that the doctor is using has a confusing interface, and they cannot quickly find what they are looking for? The consequences could be terrible.

The 'experience' doesn't just have to be the design, either. If you arrive at a website that never loads, will you immediately go to an alternative option? If the app drains all the battery on your phone, will you continue to use it? The way apps are developed can positively or negatively impact the experience with the product or service, just as the design affects the customer.
WHAT DO WE DO ABOUT IT?
So how do you improve the user's experience? First, you gain a deep understanding of the user from research, customer interviews, persona creation, and online surveys. Next, you develop a full understanding of the experience. Creating empathy for the user by putting yourself in their shoes is key to improving the process.

So, how do you create a good experience, then? How do you create empathy? The following UX exercises help to work towards essential factors of a product or service:

Personas are written to familiarise ourselves with the habits, motivations, behavioural patterns, and other indicators that influence a user's feelings, choices, and overall experience. Each persona is intended to represent a target user and is crafted by multiple people whose needs, wants, and goals are similar. This exercise turns a 'user' into a 'shopper' or 'doctor' based on the context. Research techniques such as interviews and surveys should be employed to create each persona.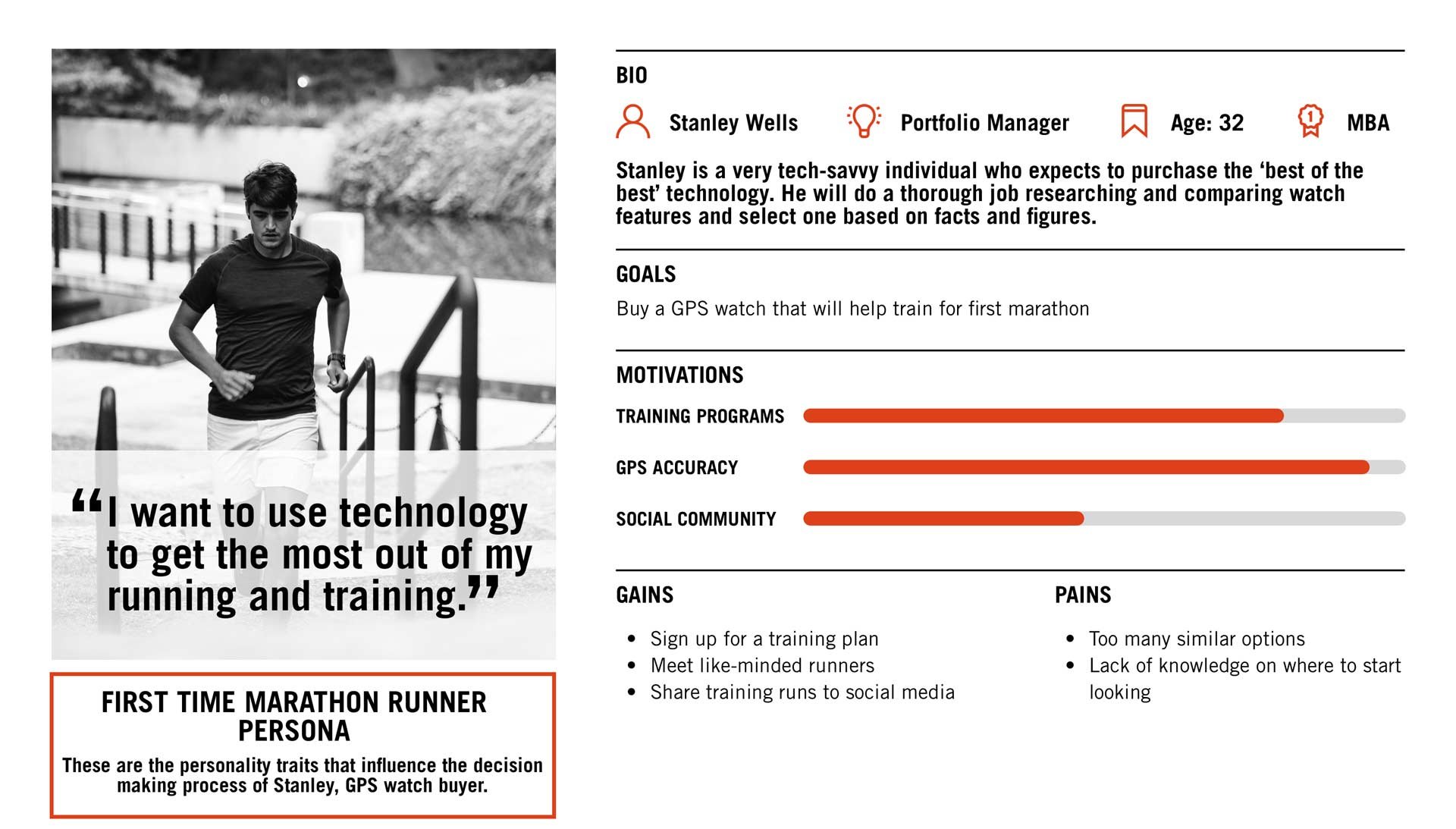 Figure 1: The persona demonstrates the personality traits that influence a user's decision making process. In this example, Stanley is looking to purchase a GPS watch.
Empathy maps are designed to visualise a persona's emotions before, during, and after an experience. They help to communicate a persona's motivations, which in turn helps to put effort behind those types of design solutions that make a difference. By empathising with multiple personas, we can learn what success means and focus on the critical details that define an experience.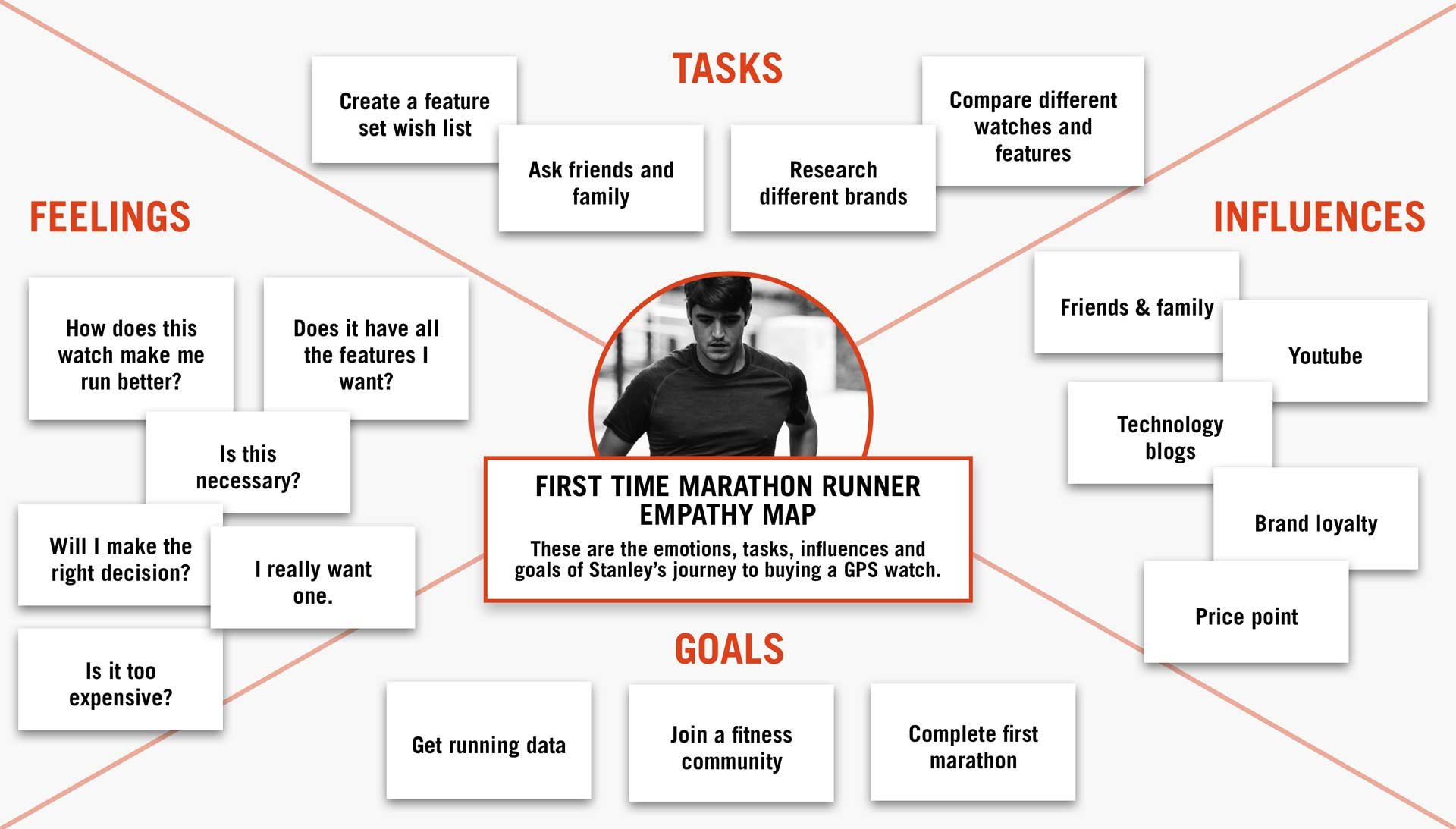 Figure 2: The empathy map shows the feelings, tasks, influences and goals of Stanley's emotions through the process of buying a GPS watch.
Journey maps visualise an end-to-end experience. The journey can be told from a patient's perspective from when they pick up a phone to schedule an appointment, for example, or from a doctor's view beginning when they enter the operating room. They represent each step of a process, illustrate what is needed to complete a path and how the persona feels along the way.

Figure 3: The journey map shows the path that Stanley has taken to research, purchase and use a GPS watch.
Most companies don't set out to create 'bad' experiences; they just don't invest the time, effort, and technology to improve their processes. Focussing on the users' experience will lead to a more well-designed product or service that will retain loyal customers.
Tags
Lead UX Designer
Erin is a Lead User Experience Designer at Endava with over 6 years' experience in user experience and product design. She is obsessed with the user's journey and creating end-to-end experiences. Previously, she has studied Design Innovation at Glasgow School of Art, and has worked for clients such as Amex, TIAA, and Verizon. On weekends you can find her on her '84 road bike, at the gym working on a new lift, or out in the woods hiking and camping.
All Categories