Innovation | Teodora Serban |
18 June 2019
Recently I attended an inspirational meet-up with one of the world's leading innovators in the retail industry, Frank Rehme, who's contribution to numerous multinational companies has set global standards through new solutions. Frank shared some of the real trends that affect each of us, and there was one commonality across them all, which is making the customer journey more experience-driven and reducing 'idle time' as much as possible.

Frank is a long-time innovator in the retail sector, with over 35 years of experience in the industry, dealing with the ongoing change management, future scenarios, innovation and the development of new business scenarios to set global standards and solutions. He's now founded an idea incubator and is also working on creating a city of the future.

In this article I will be sharing some of the trends that most impressed me, where I believe the intersection of marketing and technology plays a crucial role in ensuring the customer is at the centre of everything in business.

Frank started by sharing some eye-opening insights, such as:
■ The fact that despite the hype, in Germany online shopping represents 12% of the total, while 88% of shopping is still done in brick & mortar shops, because in this market the sensory experience matters the most;
■ Only 1% of fresh produce shopping is done online in Germany, and while in the UK the stat is slightly higher, it's still only at 5-6%;
■ Technology in retail can sometimes put people off. Fitting rooms with hidden cameras in intelligent mirrors felt like an invasion of people's privacy, and that's the reason they didn't really take off.

A retailer's main job is to convince people to buy things they might not really need. We all have enough T-Shirts, but if we saw a cool one, we'd still buy it, right? One problem the industry needs to address is how to encourage shoppers to spend as much time as possible browsing the store, and not stuck at the check-out counter. But let's dive into the trends Frank shared, as the story will make much more sense after realising how true they are.
Trend #1
It's all about personalised products
If it's made for us, tailored to our own taste and measurements, we'll be more inclined to buy it, to keep it for longer, to cherish it more and recommend the whole experience to others.

Retailers can start with small things like offering a potential client an exclusive branded item with their name on it, but shops or brands that offer fully personalised products are in growing demand. Take a look at how Nike offers customised shoes: they provide the canvas and tools; you create your own shoes and get them delivered to you in a few weeks.

Another very nice example can be found at Function of Beauty, who offer fully customisable shampoo and conditioner. Customers select their hair type, structure and scalp moisture, and then set five hair goals and choose their preferred fragrance and colour. Within days, they receive products that best fit their hair, personalised with their name on it. When signing up to the subscription model at their choice of interval, customers are guaranteed to never run out of their perfect hair care products and receive free delivery from the USA.
Trend #2
The store is an experiential gallery

To encourage people to buy more of the things they don't really need, and given the majority of consumers/customers are looking for sensory experiences before they buy, having a store which looks more like a gallery (rather than a crammed display of everything you have in stock) is going to make all the difference, and soon.

Take a look at how STORY describe their shops as a 'narrative-driven retail concept' where their products are displayed through a 'vibrant lens'. STORY organise in-store events that allow their customers to discover new products in a more organic way, for example while attending a free in-store yoga class, you use (and fall in love with) a water bottle from a local producer you hadn't heard of previously. Their store gallery is constantly changing, offering new experiences and products frequently enough to keep their customers engaged.


Trend #3
In-store digital signage. Not for advertising, but for driving experiences

It's a waste to use big digital displays for advertising your brand once the customer is already inside your store. The trend now is to use digital signage as a way to lead the customer to explore the whole store or to get them to go to an upper floor. Basically, digital signage directs them to where you would like them to engage more with your shop, instead of leaving.

The shops on New York's 5th Avenue are the perfect examples of how digital display are used to drive experience and engagement and lead customers through these journeys.
See how in the photos above, Nike's flagship store in New York uses the digital display under their escalators to lead customers to the upper floor, or how Oakley uses screens on the ceiling to keep the customers engaged and draw them further into their store, therefore prolonging their time browsing the shelves.
Trend #4
Experiences, experiences & more experiences

People spend much more on experiences than they do on goods. That is why there is a focus on the most important "magic moments" in a shopper's journey. As opposed to the negative feelings associated with wasting time unloading your items and queueing to pay, retailers are looking for new ways of eliminating these moments and replacing them with experiences that lead to more shopping, and inspiring clients to spend more time inside the shop.

One perfect example of how this could work is a technology and AI driven experience, like the one Amazon Go created. No lines, no check-out. Wouldn't that feel great?
Trend #5
Welcome to technology. The combination of the apps and the actual store

Retailers have been eager to use more and more technology to help save time in fitting rooms or at check-out. One great example of this in action is the new Bon Prix pilot store in Hamburg, Germany. Take a look at the video below to see how they've used an app to facilitate the whole shopping experience, from store check-in, electronic shopping lists, seamless fitting room experiences and check-out. More and more stores will look at using a mix of apps and technology to create more memorable experiences and reduce wasted times in stores.

In a recent article from Racounteur, a Riverbed study from 2019 showed what customers expect from technology, both in-store and online. Websites and apps that load in seconds, appealing designs and videos as well as online ordering for instant in-store pick-up are some of the most desired technology experiences expected by today's consumers.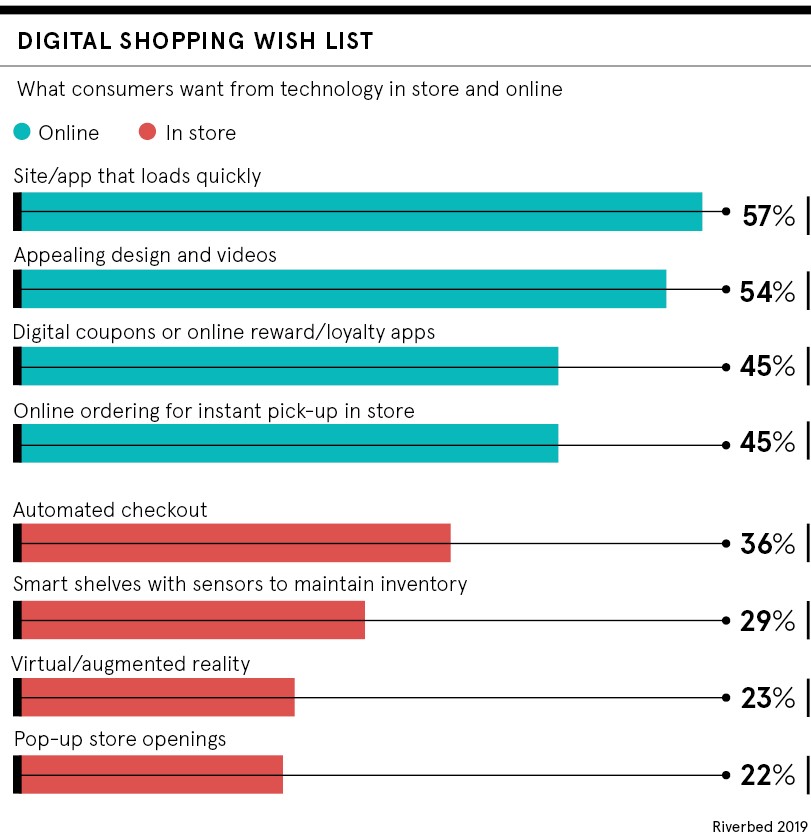 For the retailers, marketers, and technology enthusiasts, these new trends in the industry are a gold mine for creativity and re-mapping the entire shopping journey. The most important piece of advice is not to wait and see what happens, but rather to innovate on a constant basis, even if most of these innovations fail initially. Some ideas will work brilliantly, some will not pass the user testing, nor align with buyer psychology or meet expectations, but it's only through relentless innovation that problems will be met with the right solutions.
Head of Marketing
Teodora is a marketing professional with 10+ years of experience in events management, marketing and communications as well as people management and leadership. She is a strong believer in life work blend, in fact she has a blog focused on the topic. She is also a big fan of dogs, especially her Shih Tzu Luna. When she's not excelling at work or spending quality time with Luna and her family, you can find her leading the Endava hiking club up her favourite mountains.
All Categories