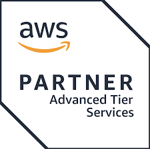 Endava is reimagining the relationship between people and technology. By leveraging next-generation technologies, our agile, multi-disciplinary teams provide a combination of Product & Technology Strategies, Intelligent Experiences, and World-Class Engineering to help our clients become more engaging, responsive, and efficient.
Endava invests in developing the Migration and Modernization Competency to help businesses move successfully to AWS, through all phases of complex migration projects, discovery, planning, migration, and operations.
Being an AWS Competency Partner enables Endava to accelerate customer cloud adoption journey by providing business expertise, migration and modernization tools, education, and support to customers in the form of professional services
https://aws.amazon.com/partners/offerings/
Endava has technical proficiency and proven customer success in cloud migration and application modernization, delivering for customers:
■ Faster and automated application portfolio assessments for modernization, cutting weeks of effort needed for modernization assessments.
■ Automated business case for application modernization using containers and serverless if customers are already running the legacy application workloads on AWS.
■ Tools to do automated replatforming, automated refactoring, and augmented refactoring by developers.
■ Manage and govern the application while being modernized.
Arm Solution Architect Testimony
"By migrating EDA workloads to AWS, Arm can now run more than 53 million jobs per week and up to 9 million jobs per day utilizing more than 25,800 Amazon EC2 instances, thereby optimizing compute costs, resulting in increased engineering productivity and accelerated speed to market for its users."
Our practices include assessing each of the six perspectives of the AWS Cloud Adoption Framework - business, people, governance, platform, security, and operations - to identify critical components necessary for successful cloud adoption.
We help customers define a Cloud Adoption Plan to ensure that the cloud adoption journey aligns with essential business objectives, thereby reducing risks and maximizing benefits for the enterprise. Endava is there every step of the way by helping define the business case for the cloud, assessing your workforce for cloud readiness, assisting in implementing a cloud governance model, helping to choose the right cloud platform, establishing a cloud security approach, and supporting operating the cloud environment.
Endava uses the AWS Cloud Adoption Framework by applying the framework's best practices, guidelines, and tools to help enterprises accelerate cloud migration and to govern cloud adoption.
Endava employs the AWS Well-Architected Framework for designing and operating reliable, secure, efficient, and cost-effective systems in the cloud.
It is an integral part of our practices for designing, deploying, and operating cloud workloads to leverage the five pillars of the Well-Architected Framework: Operational Excellence, Security, Reliability, Performance Efficiency, and Cost Optimization.
By utizing this framework, Endava helps customers build better systems that maximize benefits while minimizing risks.
As the framework emphasizes, Endava assists customers in implementing automation, metrics and monitoring, and continuous improvement, along with their cloud adoption.
Endava Cloud Adoption services help enterprises create and implement the business and technology strategies necessary to succeed in the cloud, supporting strategy definition, planning, preparation, and migration across cloud platforms.
In multi-cloud context, Endava also employs the Microsoft Cloud Adoption Framework tools, templates, and assessments to assist enterprises through a secure and consistent cloud journey.
A major publisher, with over 200 national and regional titles, wanted to reduce the costs associated with their growing applications estate and IT infrastructure, while improving their critical business applications and services.

Through our robust and scalable business solutions, we supported the publisher in achieving enhanced service resilience, focusing on a smaller number of enterprise applications scaled according to business demand and priority. Our partnership led to significant improvements including 93% end-user satisfaction and £2.5mil cost savings per annum.
One of the world's leading payments processing partners for issuing banks wanted to team with a technology company to support their rapidly expanding customer base.

Endava helped transform the client's business with the cloud adoption and by introducing agile ways of working, enabling many teams to deliver on two-week sprint intervals instead of up to six months.